Marine Motion Sensor
The IMU-00x range of motion sensors refer to the products:
- IMU-007, roll / pitch
- IMU-007-30, submersible roll / pitch
- IMU-008, roll / pitch / heave
- IMU-008-30, submersible roll / pitch / heave
The marine motion sensor IMU-00x series is SMC's motion sensor range to meet the requirements of the Dynamic Positioning, Marine and Hydrographic sector. The IMU-00x range provides accurate motion measurement data in dynamic environments. Solid state gyros and linear accelerometers are used in the IMU-00x motion sensors to provide real time motion measurements with precise dynamic accuracy.
Dimensions
SMC´s IMU-00x motion sensor range is small and compact in its design. The motion sensor body height is 7cm with the mounting plate bas measured 13x13 cm.
Design principle
SMC's product development and design philosophy is to produce technologically advanced, durable yet uncomplicated products. Our aim is to reduce the cost of purchase and maintenance by reducing options and add-ons often associated with ancillary products. By doing this SMC does not require that a client invests in extra equipment they already have installed on a vessel.
Titanium Material
The casing material used in all of our IMU-series is Titanium. The most useful properties of Titanium are its high strength, low density and corrosion resistance in the Marine environments the motion sensor works in.
The design arrangement of the whole case is for additional strength and durability.
Mounting plate
The IMU-00x motion sensor is designed with a mounting plate as a part of its casing. The design makes the motion sensor easy fixate and to physically align onboard.
Subsea Motion Sensor IP68
The IMU-008 and IMU-007 are available as submersible motion sensor, depth rated for 30meter. The submersible versions of the SMC motion sensors are using the Seacon Wet Mate Connector with IP68 classification.
The IP68 standards classify the level of protection provided against the intrusion of dust and water.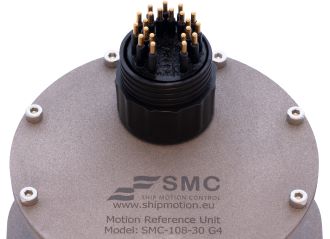 Motion Sensor IP66
The connector being used for the surface marine motion sensor is the Amphenol Lite IP66 rated 38999 Mil spec connector. The connector on the motion sensor is a standard accessible part with a long term supply. This makes it easy for the IMU motion sensor users to source the cable and connector from SMC or other suppliers.